New Highscores are here with a whole new look along side a mostly mobile friendly design.
Several new categories are being added along side some new tools. Information to follow.
- Primary Ladders
Playtime - Server playtime

Economy - Individual money banked.

Combat - Individual elo rating

Respect - Individual respect points.

Experience Individual experience points.

Dueling - One Versus One dueling wins.

- Gang Ladders
Gang Economy - Combined money banked

Gang Respect - Combined respect points.

Gang Experience - Combined experience points.

- Other Ladders
Piñata Poppers - Beating opening Piñatas.

The Environmentalist - Collecting pieces of trash.

Home Wrecker - Breaking locks.

Lootbox Detective - Finding and opening crates.

Bank Robber - Robbing bankers & vendors to completion.

Growth Industry - Selling drugs to vendors.

The Numbers Mason - Hacking terminals.

- Visual Scores 2.0
Top 10 Gang Wealth - Available as Bar & Pie graphs.

Top 10 Bank Wealth - Available as Bar & Pie graphs.

Top 10 Playtime - Available as Bar & Pie graphs.

Top 10 Combat- Available as Bar & Pie graphs.

- Player Lookup
Look up others player who meet the minimum requirements to be presented.


Have a registered username in the database.

At least 5 hours of playtime on the server

- Server Stats
See who is currently online, and for how long.

Various other bits of information about the server.

- Images -



Visual Scores - Bar Graphs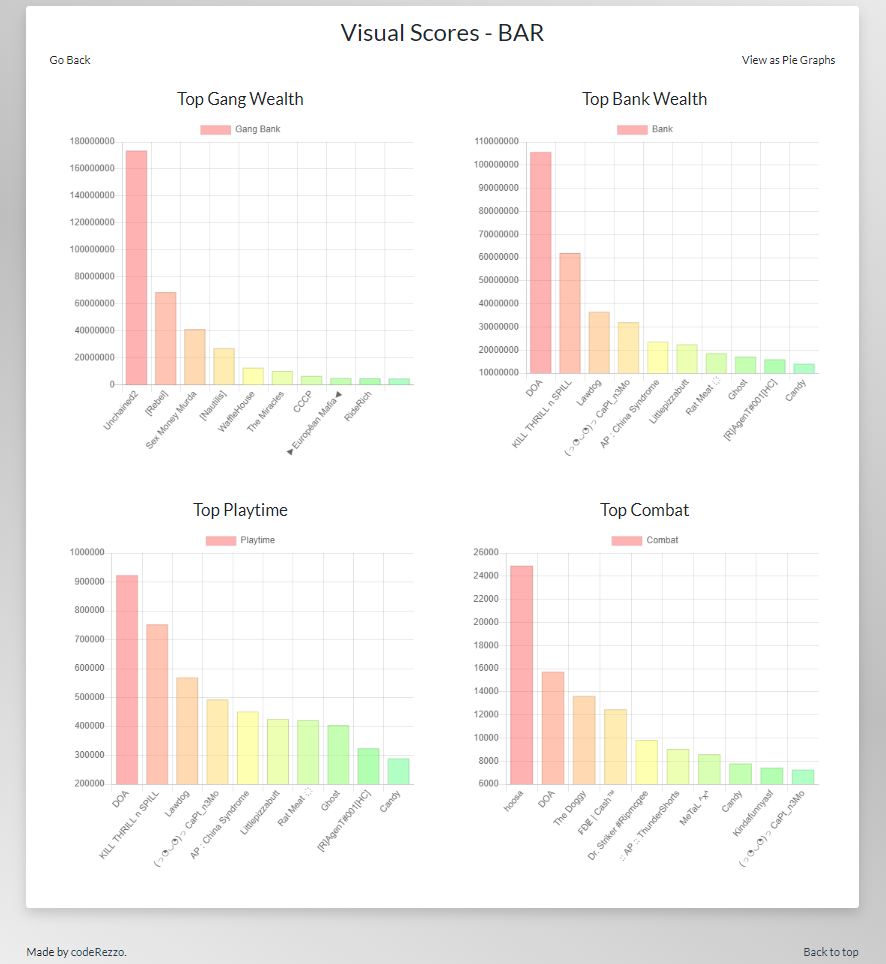 - Player Lookup Tool

(beta)

-


- Notes -
If a tool is outlined in red then it is currently unavailable for use.

As of posting this Highscores is located under the /dev/ branch. This will change in the future.
Highscores (dev): rezzo.dev/dev/
Highscores Website: rezzo.dev/
Github: github.com/codeRezzo/highscores
- Highscores - Maps -
- Rezozplace.com / Rezzo.dev -